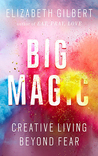 Big Magic: Creative Living Beyond Fear by Elizabeth Gilbert
My rating: 4 of 5 stars
A refreshing read for the discouraged creative soul, Big Magic is essentially a long, written pep talk encouraging you to stop quivering in fear about your creative projects and go out and make stuff already, for no reason other than:
a. It's fun.
b. That's what humans have always done.
I copied down quote after quote from Big Magic's pages, on everything from trusting and surrendering to the process, to pushing past fear and perfectionism and refusing to accept that creative living is an inherently miserable way of life.