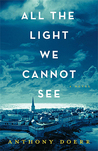 All the Light We Cannot See by Anthony Doerr
My rating: 5 of 5 stars
"All the Light We Cannot See" is a rich, evocative novel set during World War II. The third person narrator primarily follows two characters: a blind French girl whose father is a locksmith at a museum in Paris, and an orphan boy who is part of Hitler Youth and then conscripted into the Nazi military due to his mechanical gifting, particularly with radios. Doerr is a master of showing, rather than telling, and creates a world with as much texture as the real one. His characters are three-dimensional, conflicted, believably inconsistent. And the story that he weaves between them is equally heart-warming and heart-wrenching, stirring contemplation about how we fit into the world we've been given and what it means to have a choice regarding how to live our lives.
It's only August, but this will probably be the best book I read all year.
If you've read this book, I recommend reading this interview with the author.